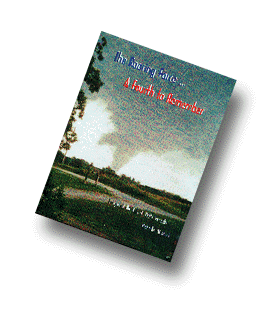 Relive the images that the citizens of Moberly, Missouri experienced when their Fourth of July celebrations were interrupted in The Roaring Force ... A Fourth to Remember.
This beautiful hard-back book captures the power and devestation of a tornado and shows the community spirit of a town as it rebuilds in the aftermath.
Because of the holiday, many people were outside with cameras and video cameras at hand. The publishers of this book received hundreds of photos and videos of the tornado as it made its way across the county. Any weather enthusiast will be excited to see the documentation of this tornado.

The Roaring Force ... A Fourth to Remember can be yours for only


$24.95
($20.00 off the original publisher's price)
+ $5.00 shipping and handling





Or Call for more information.
888 816-1202 or 660 263-1202

Or send e-mail us at MLH Graphics. Please include your phone number so order amount can be confirmed.

If you would like a leather bound copy of this book, there are a limited number available for only $54.95 +$6.00 shipping and handling.


---

Call us today at

888 816-1202 or email us at mlh@mcmsys.com

Feel free to browse these pages for more information on the services MLH Graphics offers.


---

|Home|Business Cards|Logo Design|Web Page Design|Tornado Book| Rosaries |


Press Here to go to MoberlyMo.com YellowPages




This page Designed by Melanie at MLH Graphics. © 1997